Literacy and the wider curriculum
To begin our spring term we focused on persuasive writing. Looking at the Nissan Leaf promotional booklet enabled us to create our own unique electric vehicle as well as a brochure for the car buying public.
As a transformation piece of writing, we wrote to the chief designer of Nissan to try to persuade them to build the children's new innovative vehicle.
Y6 were lucky enough to have a visit to Nissan where they experienced working on a production line which enabled them to work as part of a team and become efficient. This was a fabulous opportunity for the children to see at first hand a major provider of work in the North East.
We linked our Nissan topic with the science topic of electricity by inviting technology Tom to make an electric vehicle. It reinforced the need for a complete circuit for an electrical item to work and from this the children hypothesised how the speed of their car could be adjusted.
A Hetton Lyons Grand Prix was held and the children had so much fun.
Holes by Louis Sachar was definitely a favourite read for Y6. Here are a few of our reviews.
Maths
Fractions, decimals and percentages were the key areas of spring term's maths with the children converting between each and completing problem solving and reasoning questions. Here are some of our favourite questions and how we worked them out.
Problem solving
Times Table Rockstars has proved to be a hit with our Year 6 children. Every week, we have a celebration assembly where a child is awarded for their dedication and enthusiasm towards learning their tables. See for yourself how fabulous a program this is by following our link:
Safety Works
The age a child can get a criminal record is 10 years old! We know this because we visited Safety Works in Newcastle. This proved to be an exciting as well as very informative visit as it was almost like walking onto a film set. We learned how to be safe on the Metro system, how to put someone into the recovery position and basic fire safety in the house.
History
200 Years of Hetton
We have had an exciting historical autumn term. Firstly, we studied the history of our local area under the topic of 200 Years of Hetton. We began with a walk where we looked for evidence of Hetton's mining heritage and the community that grew up around the mines. We made popplets about life in a mining community.
Many of the old houses still remain as well as many other buildings, such as the old picture house, that now have other uses. Some pit cottages were moved to Beamish and we were able to experience life in a mining community visiting these cottages, the school, the mine and the chapel.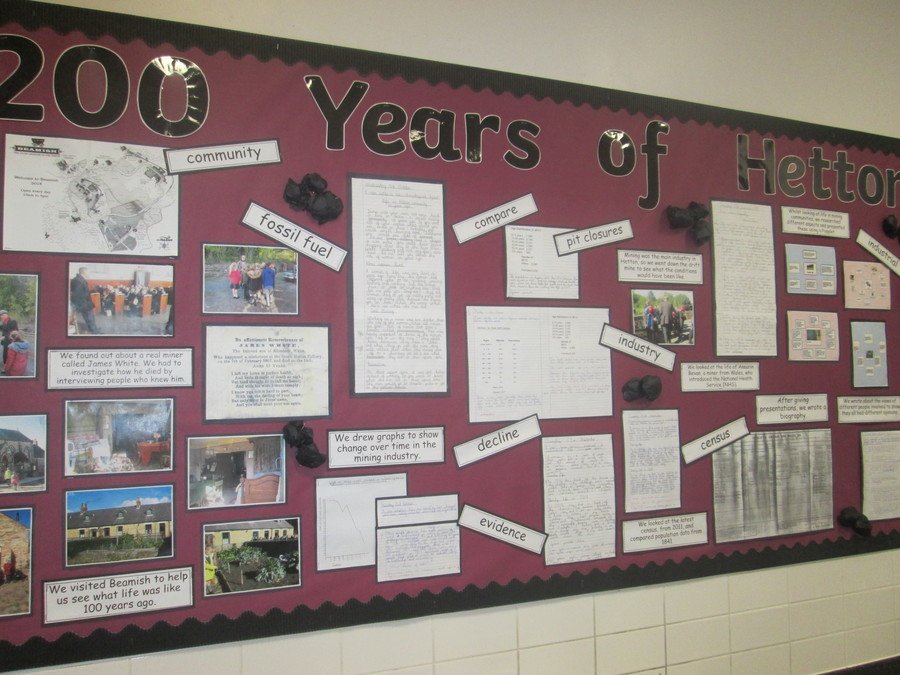 We will finish our topic with a look at how industry has changed, after the closure of the mines, with a visit to Nissan next term.
World War 1
As part of a whole school topic on the centenary of the ending of World War 1, Year 6 concentrated on the events leading up to the start of the war and the armistice which ended the war. Through Literacy, we read War Game by Michael Foreman where we learned about the Christmas Truce.
To commemorate Remembrance Day, we held own service at the Lonely Soldier War Memorial to which parents were invited. The children did a wonderful job. Following on from the service, we collected a name from the monument and posted a message online using EveryoneRemembered.org. As part of Remembrance, we worked with local artists to produce a banner, which was displayed in Sunderland Winter Gardens, alongside poppies and crosses that we decorated in school.
Literacy
Much of our Literacy work has been based around History. As well as linking our work to World War 1, we wrote biographies about Aneurin Bevan to commemorate 70 years of the NHS.
A short narrative unit that we completed and the children particularly enjoyed was based around the short animated film, "Alma'. Click here to watch the film. We wrote our version of the story.
Maths
Written methods of calculation and fractions have dominated our learning this term. We can now apply all of the four number rules to fractions. To aid our understanding, we used diagrams to help with written methods.
Geography
Having the opportunity to study North America was exciting. Using google earth, we zoomed in to identify countries and environmental regions of this vast continent. We made comparisons between an area in North America and a local area and also looked at the various time zones across this huge land mass. The Ring of Fire links many countries in this continent. Read our informative reports to find out all you need to know about this natural phenomenon.
Science
Our focus in Science was Life Processes and Living Things where we learned about how all living things can be classified. We used branching data base to classify leaves that we found in the school grounds and similar systems to classify mammals. After discovering that Carl Linnaeus was the founder of classification, we researched his life and wrote biographies. An investigation in this unit was centred around the growing of micro-organisms and the conditions best suited for this. We used slices of bread in different locations around our classroom and observed them on a regular basis.