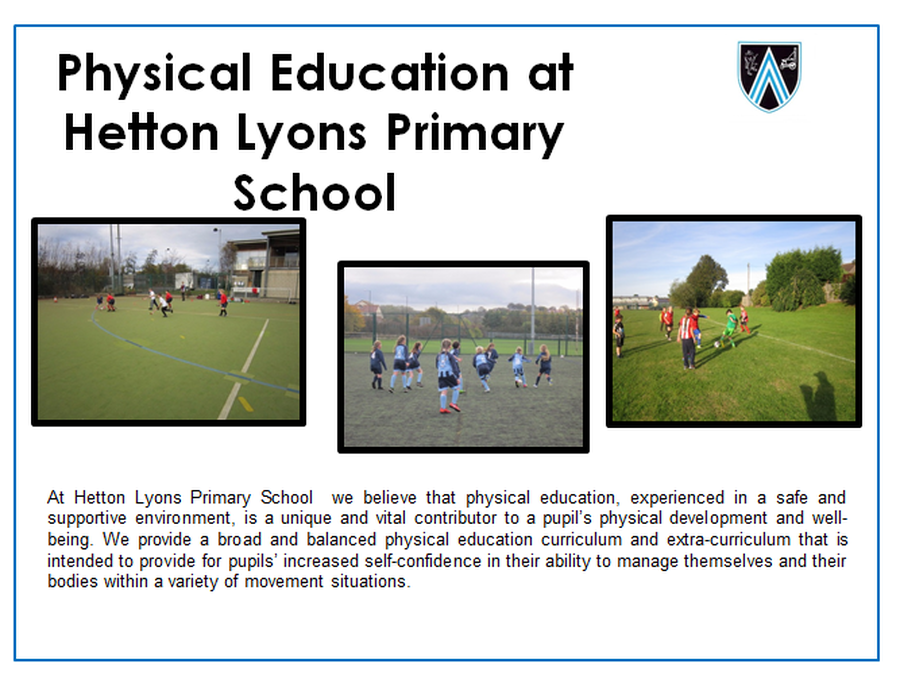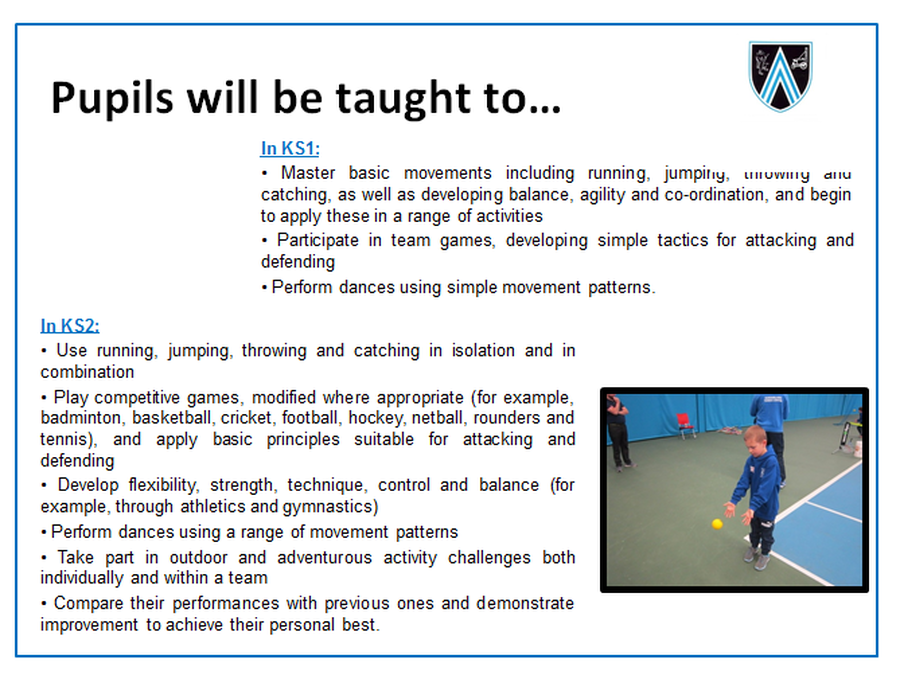 School Sports Funding
Mrs Ryder is our school PE subject leader
Mr Marsh is our sport and activity leader
Miss Griffiths is our PE apprentice
At Hetton Lyons Primary school we recognise the contribution of PE and school sport to the health and well being of children. A varied and challenging PE curriculum has a positive influence on concentration, attitude, enjoyment and academic achievement of all of our children.Our aims for PE include:
All children being engaged in regular physical activity

The profile of a healthy lifestyle being raised so that children know how to keep themselves healthy physically and emotionally.

Staff feel confident and have the knowledge and skills to teach PE and sport

To offer children a broad range of experiences beyond traditional PE lessons

To increase the participation of children in clubs and competitive sports
Primary School Sports Funding
The government have committed to funding primary schools until 2020 to provide high quality sport and PE for all children. This commitment to the Primary School Sport Funding is worth £750 million nationally
Each school receives a base amount of money and an allocation of £5 per pupil, a total for us of around £9500.
What is going on in school sport ?
Summer Term
Sports Awards
Every year we award children who have been our sporting stars. The award goes to the children who have shown skill in sport but have also shown an excellent sporting attitude. This year we had an award for a child in each class who showed a great sporting attitude.
The sport girl of 2017 was Bridie Thompson and the boy was Owen Hayton.
Sports Day
We had two fantastic sports days. The sun shone and parents came along to cheer us on. we took part in a series of events to challenge us. We had to throw, run, skip, crawl, balance and bounce. the favourite activity was running with cups of water! After the skills challenge we took part in a running challenge. There were awards on the last day of term for the speed challenge and the best sporting attitude.
The Fun Run
On Friday 26th May all of the children took part in the annual fun run and for once the sun shone. It was lovely to see so many of the parents coming along to support the children.
Skipping Festival
On Monday 27th March, 30 Year 4 children took part in the Skipping Festival. The children showed off their skills and dance routine they have been practising in the after school club. Lots of the children won bronze certificates and one child won a silver. The best bit of the day was learning new skills which they are showing to other children on the playground.
Infant Agility
On Friday 17th March, 13 Year 2 children took part in a Infant Agility Festival against other local schools. The children had a range of activities to score points in. Unfortunately this tournament ran over so there were no winners but all the children really enjoyed themselves.
Autumn Term
Hockey
On Monday 4th November, 12 Year 3 and 4 children took part in a Hockey Festival, against other local schools. Each team of 6 played competitive matches with everyone winning at least one game. They came 2nd overall for the whole competition and should be very proud of their achievement. We may have a future hockey star at Hetton Lyons Primary School.
Football
Our football teams regularly practice their skills and this has paid off on a number of occasions. The teams have played in a number of matches against a range of different schools. Our teams have been very successful and at times it was difficult to tell whether we were watching children or professional footballers! All members of the school teams are a credit to Hetton Lyons Primary school and show true team spirit throughout their matches.
Fantastic Girls Football
Our Girls football team were successful in going through to the next round in the English Schools Football Association 7-a-Side Football Competition.
Sport for all
On Thursday 3rd November 2016, Children from Hetton Lyons Primary School took part in the Sunderland School Games Key Stage 2 Sportsability Festival. The children demonstrated their skills in a range of different activities. Many Children achieved personal bests. The children then went on to compete on Friday 18th November 2016 the Sportshall Athletics Parallel Challenge at Temple Park, South Shields. They were a credit to the school.
Christmas came early for Hetton Lyons
Christmas came early for Hetton Lyons as they got the chance to watch their footballing heroes being put through their paces.
SAFC boss David Moyes took his team to the Hetton Centre for a special open training session in front of invited pupils.
Hetton Lyons Primary School were given a first-hand insight into how the club prepares for a big game before the likes of Jermain Defoe, Victor Anichebe and Jordan Pickford signed photographs and posed for pictures. "It is important for us to be able to get out to see fans at events such as this today," said the manager. "Sunderland is a club that is at the heart of its local community and we want to do everything we can to continue to strengthen the bond between the club and its supporters."
Jermain Defoe added: "It was brilliant being able to train in front of the children and they made us feel so welcome."
Sport Timetable 2016/17
In addition to the timetable below the children in Year 4 go swimming every week and the children in Year 6 do outdoor adventure activities in the summer term.